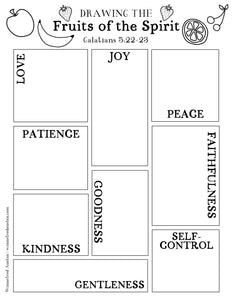 Let's learn the fruits of the Spirit from Galatians 5:22-23. Use the boxes to illustrate each one. Print off copies at home and share with your family!
How to receive free download:
Add to cart! Follow the checkout steps by completing customer information. Proceed to payment step, but great news! No payment is required. Complete order and wait for confirmation page to load. A link will be available for immediate download, and an email with subject "Your Winnefred Austin Downloads Are Here!" will be in your inbox shortly after. 
Questions? Send us a message here!